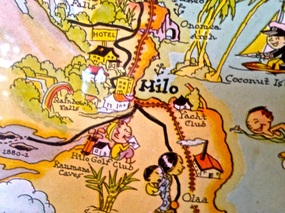 We are located in downtown Hilo
and just up the hill from the Farmer's market that is famous for local products, exotic fruits, crafts and great food. (Open daily and the best time to go is Wed. and Sat. 8am to 2pm).

Our address is 301 Ponahawai St., Hilo, HI 96720
(one block up from the Tidal Wave Zone)



---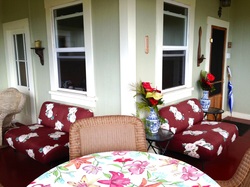 Our wrap around front Porch offers great views of the city and its a great place to relax and sip a cocktail and watch the cruise ships and barges arrive and depart from Hilo Harbor. When you arrive, look for the 40 foot bamboo growing around the house and our Hawaiian flags that adorn our front porch.
Parking is easy too! We offer free, off street parking and
you can pull into our driveway to unload your luggage.
---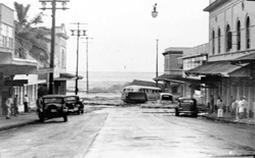 The Tsunami Museum in Hilo
is one of the great places to visit while here.
This photo shows a tsunami wave as it floods downtown Hilo on April 1st, 1946.
We are located just one block above the Tidal Wave Zone and Ponahawai Street is where the locals come to wait and watch the tsunami waves come in. Since we opened in 2006, we have had three tsunami warnings and evacuations for Hilo.
Luckily the recent tsunami waves that have hit Hilo have not caused significant damage.
---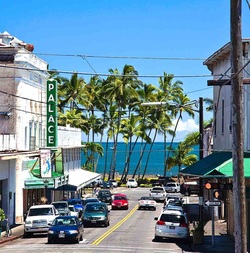 While you are staying with us, we can point you to our favorite places for the best sushi, cocktails, wine tasting, local fare and events happening during your stay. We have a great local Menu collection in the Kitchen too!
CLICK HERE
For more things to see and experience in Hilo.
The Palace Theater (shown here) is our favorite place to see great films and live music.
It is one of the few remaining theaters built during the early plantation period and features a beautiful art deco interior!
---